The Pic of the Month is a fun look back at the behind the scenes stories, antics, and events from some memorable architectural lighting images. Enjoy.
(If you would prefer to not receive these stories, please email me and I will remove your name from my list. Accept my pardon for intruding.)

'Twas a cold, cloudy, early morning: continuing an all nighter that began at
3pm...OUCH...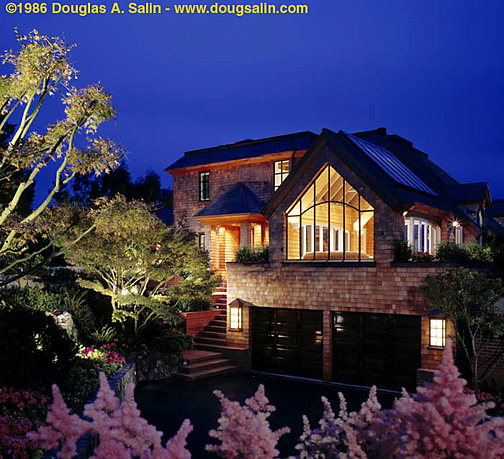 Client: Luminae Lighting Consultants(Luminae Souter Lighting Design)
Lighting Designer Jan Moyer
Photo Assistant: Mark Alberding

The Story:
Working with Jan Moyer on this residential exterior opened my eyes to some new ways of seeing shots. It was
am, and time for preparing the dawn exterior shot. We started this shoot at 3ish in the afternoon on the previous
afternoon and had produced 4 other fine shots in the 12 hours prior.

The inside house lights were dimmed to an appropriate level. The basic angle was chosen. The exterior garage
lights were a wee bit too bright(60w bulbs, times 2) for a mood shot. I always carry a few small wattage bulbs to
reduce intensity, just in case. They were essential for this one. 15w bulbs made these over bright exterior light
fixtures more manageable for the film. This image, however, is successful due to the brilliance of Jan, who had the
foresight to be prepared. She had anticipated the real problem. I had not. Jan provided the pinkish plants in the
foreground, Without those pinkish plants, resting comfortably on top of wood planks balanced on top of 2 well
placed garbage cans, this image would include a rather large and boring asphalt driveway. Yuck. I provided a small,
but necessary amount of light to the plants. I had never thought of this kind of simple solution before, but have
capitalized and copied it many times over. Really mundane and boring sites and visual flaws can be transformed into
lush exciting ones with addition of such "fringing" devices. Pieces of branches, small, plants, interesting objects will
all work well.

This image was produced on cold, semi foggy morning. It was taken just as the black of night began to fade. For
a few brief seconds along the way, the black of night changes to blue, and then quickly changes to the final grey of
an overcast sky. In the span of a few brief seconds, this image captures this blue effect in the sky, and then it is too
late. Continuing to shoot after this point yields dull, boring, and grey, images.

Mark, Jan, and I went home around 8 am, hoping that the final film would be worth all the effort.

As you can see we were prepared and lucky. Without luck nothing works. Thank you Jan!

(Sleep feels exceptional when you have been up for 26 hours working hard. In this line of work, sleep is optional,
as well as irregular.)

I have always learned from my clients.
Jan Moyer is such a wonderful and talented lighting designer. Back in 1986, I was barely into this way of life. By
accident, I stumbled across Jim Benya of Luminae Lighting Consultants(later: Luminae Souter Lighting Design)
of San Francisco. Purely by coincidence, Jim and I were working on a project for Ehrlich Rominger Architects of
Los Altos, CA. Jim had observed several of my finished shots, that I had produced for ER. They had a very special
quality. He went out of his way to directly tell me how "really" good my photos were. I was not terribly taken by
his comment. No big deal. He then slowed me down, confronted me, to tell me that he had seen many "lighting
shots", over the years, and that mine were "really good". His positive words made me pause, to stop and think... I
guess that's when I became interested in the photography of lighting. The encouragement that Jim gave me, helped
guide me in the direction of lighting design and its applications. At a time when few photographers cared about
lighting issues, I began to see things in a different way. I learned about many essential lighting issues. I carried
many spare light bulbs, and other lighting goodies to my shoots. I was becoming a photographic lighting geek.
Thank you Jim...

Through the years of association with Jim and Luminae I met, Jan Moyer, Michael Souter, Naomi Miller, Ross
De Alessi, not to mention many other fine lighting designers, architects, interior designers, builders, manufacturers,
etc... Many great people, pros, and mentors. Much of business has taken root from this association.


Enjoy the image.

Doug



Douglas A. Salin Photographer
647 Joost Avenue
San Francisco, CA 94127
415-584-3322
dspeoe@pacbell.net
http://www.dougsalin.com

Previous "Pics of the Month" can be viewed at http://www.dougsalin.com




How to find Jan Moyer:
http://www.lrc.rpi.edu/education/outreachEducation/landscapeInstitute.asp


How to find Jim Benya:
http://www.benyalighting.com/



Randy Whitehead uses this image on the cover of his Residential Lighting Book
http://www.randallwhitehead.com/books_etc/book_residential.shtml

(Note: I'll be in NYC for Lightfair. I'm looking for room at a table for the IALD awards banquet. Do you have any available
space for me? Please email or call. Thanks.)
[home]
[architectural]
[hospitality]
[interiors]
[lighting]
[product]
[residential]
[tear sheets]
[textiles]
[retail]
[clients]
[bio]