I'm a professional -
Vancouver, B.C. January, 1997.
Temperature around 8 degrees Fahrenheit with a slight wind. Brrr... So cold that polaroid test materials do not work at all. (A problem I later solved in 2001 with the invention of the "Polaroid cozy," a neat little device that warms the polaroid with pocket hand warmers. Nice and toasty.)
This assignment was to take lighting pictures of the newly completed international terminal at the Vancouver International
Airport(YVR). The client, Auerbach & Glasow, a lighting design firm in San Francisco, was eager to document the project...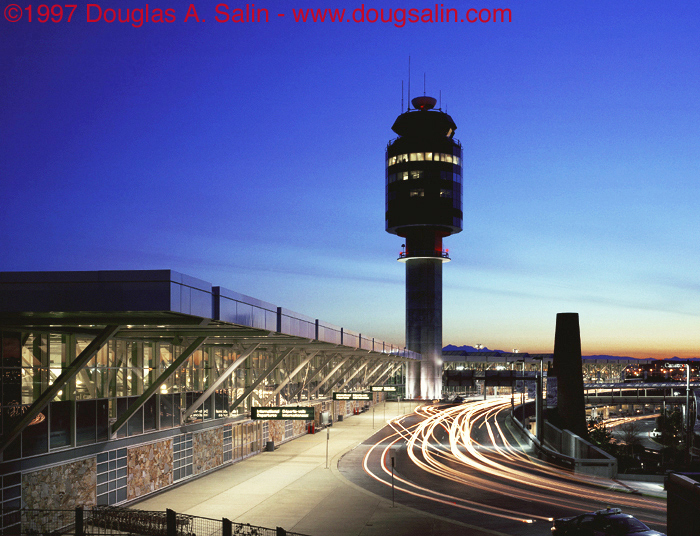 Project: Vancouver International Airport
Client/Lighting Design: Auerbach and Glasow Lighting Design, Larry French, Len Auerbach
Manufacturers: Ledalite, Louis Poulsen
Assistant: Joe the Commissionaire

The Story...
When traveling, my main concern is the safe arrival of my equipment at the location. Pre 911, I would hand carry my lenses,
meters, and film. Anything delicate was hand carried. Everything else was checked as baggage. Going through security was usually a
ten to twenty minute affair. All of my lenses and box cutters were carefully inspected and usually allowed on the plane. The old rule
was that any knife was okay as long as the blade was under 4 inches in length. This allowed most passengers to carry knives and be
well armed on a plane. It always made sense to me. Many times security would confiscate the blade to my box cutter and never
bother to inspect the package of additional new blades right next to it in the case.

During this era it was normal to have your film hand inspected. Professional photographers do not like their precious films
x-rayed. In most cases it was a simple task for security to look at the boxes of film. Most of these people had never seen professional
4 x 5 sheet film and were clue less as to what is was. On several occasions I would hand security the boxes of exposed and
unprocessed sheet film and they would say, "stand back while we examine the contents". Imagine seeing your boxes of film about to
be opened to the light by someone "just doing their job". As I plead not to open the box, I'm told that "it will be ok, sir, we will open
it carefully". I tell them to give me back the boxes and I will be very happy to let them be X-RAYED. I happily let them hose my
film with "safe" X-RAYS. ( I now have to worry about the effects of X-RAYS until my film is processed back home in San
Francisco.)

When flying internationally you are allowed fewer bags by the airlines. I travel with lots of equipment. Two checked, and one
carry-on. The weights of the checked bags are scrutinized. It's a bigger hassle than domestic travel. It is also much more expensive
for extra bags. My solution on this job was to fly to Seattle and drive the 2.5 hours to Vancouver. Plane tickets to Seattle are cheap
and I needed a car in Vancouver anyway. This way I could fly an extra 2 cases of gear with no additional excess baggage charges.
(Southwest allows you to check 3 bags and carry-on 2. You can see why I love Southwest.) The customs hassle at the border is less in
a car.

I was about to begin my first shot, when I was questioned by an operations supervisor about ,"where was my certificate of
insurance", indemnifying everyone. Without the certificate I would not be allowed to work at the airport. A few quick calls to my
agent(Sally Nichols), and she and her assistant quickly faxed a copy to the ops person at the airport.

Anyway, while I was waiting for my insurance certificate to come in via fax. I was wandering around the operations department.
I noticed that one of the offices had a terrific view of the front of the terminal. I asked permission and was allowed to take the picture
from the private office, providing my personal commissionaire was at my side. The picture would need to taken at dawn. The
location was perfect.

This nice exterior shot required a lot of good fortune. To work at the Vancouver airport I was required to hire a personal
security guard, a "Commissionaire" to guard me at all times. I think he was protecting the airport from me. Anyway, it's a cool job
being a commissionaire. You have to be past retirement(in this case 75), grumpy, tired, and bigoted. This guy Joe, who worked with
me for three days, was expecting a cushy job. Instead he got a maniac photographer who never slept. Joe used a lot of our photo
sessions to catch up on his personal sleep. When he was awake he shared all of his war stories from WWII. Later he shared with me
all of his feelings about the recent immigrants to his fine country, and how they should all go back to their respective countries. Joe
was a likable guy, sort of. Joe had the good fortune to be paid to catch up on his sleep.

Fourteen images of the facility were produced over a three day(night) period. With all the prep and coordination I was not
getting much sleep. I averaged about 2 1/2 hours of sleep per night and was just a wee bit woozy. Of course I didn't feel that tired.

For this shot, I awoke at 3:30A.M. to shower and drive to the airport. Joe met me at the operations office. He had some
difficulty finding the key. We were let in by 5:00A.M. This shot is taken through the glass of the office window. A black drape is
hung behind the camera to blacken the reflections of the room in the glass. A filter is used on the camera to darken the sky relative to
the foreground. This was not a complicated shot. The weather at sunrise was nice but not spectacular.

I finished the morning with a couple of very simple angles in public areas at the airport. I went back to my hotel to unload and
reload my film...
•All professionals make mistakes.
•To stay in business, the pro learns from the mistake and never repeats it.
Needless to say, I had made a small "boo boo". Simple, but deadly to the image.

I had loaded my sheet film for that morning upside down. The light sensitive photographic emulsion was facing away from the
scene. The next closest boo boo would be a failure to put film in the camera(1983 Ron Armstrong). I had exposed the film through
the protective backing of the film. Not advisable. All pro sheet films are notches in a special way to prevent this kind of mistake.
Remember, I'm a pro. I've never allowed my assistants to handle my film for fear of a simple mistake costing me a beautiful image. In
this case, I had myself to blame.

Only that mornings pictures were affected. It was easy to redo the other two simple shots.

I secured permission to do the dawn exterior photo again the following morning. Since the rest of my shoot was complete, I had
the day to drive around Vancouver. Vancouver is a pretty city. The following day I rose early and again prepared the shot. I knew
the exact minute the shot had to be taken(been there), etc. I arranged to have Joe meet me at 5:30A.M. at the airport. The shot was
done efficiently and quickly. The dawn that morning was spectacular and clear.
A few hours after my shot was taken a large winter storm descended on Vancouver and lasted for several days.
I drove back to Seattle and flew home.
Ultimately, my mistake (and the resulting re-shoot) made the shot better.

Enjoy the shot.

Links:
http://www.iesna.org/LDA_7-98/feature_wow1.htm
http://www.auerbachconsultants.com/html%20pages/lmaster.html
http://www.spiritofvancouver.com/sov_page.asp?pageID=586


Previous Pics of the Month are viewable at : http://www.dougsalin.com



Doug Salin
Douglas A. Salin Photographer
647 Joost Avenue
San Francisco, CA 94127
415-584-3322
dspeoe@pacbell.net
http://www.dougsalin.com
[home]
[architectural]
[hospitality]
[interiors]
[lighting]
[product]
[residential]
[tear sheets]
[textiles]
[retail]
[clients]
[bio]