The "Pic of the Month" is a fun look at the behind the scenes stories, antics, and events from some memorable architectural lighting images. Enjoy.
(If you would prefer to not receive these stories, please e-mail me and I will remove your name from my list. Please pardon my intrusion.)

Hi Folks,
POM #15
"The Photo Toupee" - The Art of Disguise

Year: October 1993
Site: Residence, Saratoga, CA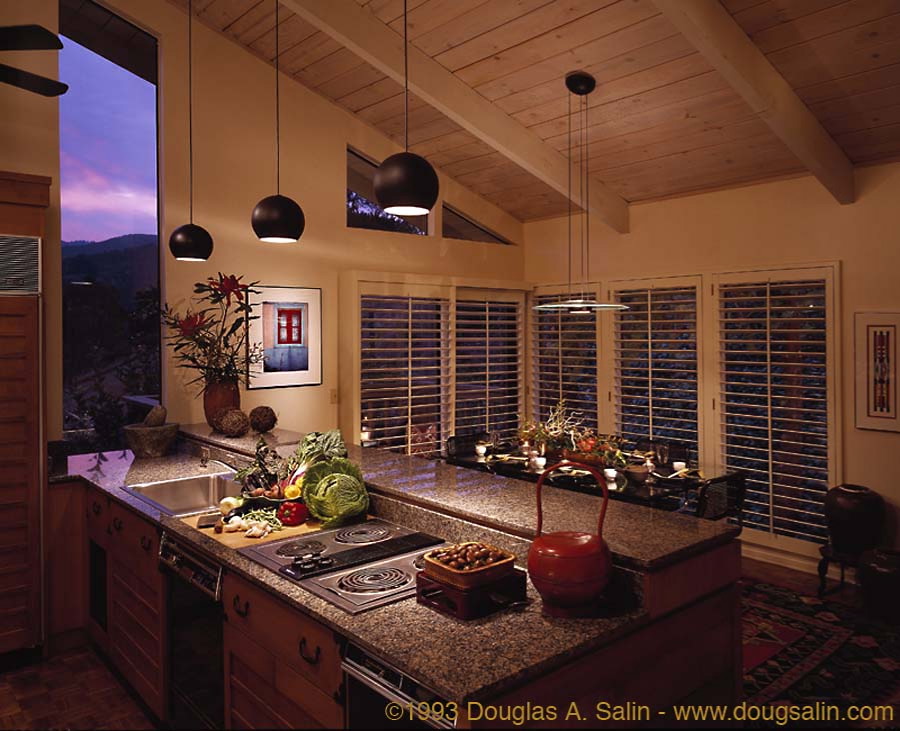 Interior Design: Barbara Jacobs, FASID
Lighting Design: Michael Souter, Luminae Souter Lighting Design, FASID, IALD, LC,
Photo Assistant: Ken Gutmaker
Floral & Food Styling: Michael Rayner, San Francisco
Film: 4" x 5" Kodak EPT (Etachrome Professional Tungsten) ASA 64
Lens Filter: 10 cc Magenta
Camera: Horseman 45L with Bag Bellows
Lens: 90 mm f8 Rodenstock Grandagon Lens
Aperture: ƒ32
Exposure: 120 seconds
Processing: Pulled 3/8 Stop (New Lab, San Francisco)

The year was 1993: Bill Clinton Becomes 42nd President, Regular gas costs around $1.20 per gallon, First World Trade Center Bombing, Waco, Michael Jackson accused of inappropriate behavior, Million Man March in DC, Robin Williams stars in "Mrs. Doubtfire", Intel's "Pentium Processor " unveiled, First Woman at the Citadel, My Boyz (Zach & Jared) in Elementary School.

It was October and the weather was nice. This wonderful residential remodel by Barbara Jacobs presented some difficult challenges. The shot took a few hours to set up. The camera angle was chosen and the lighting was adjusted.

In order to achieve overall balance on the film, the light output from some sources had to be lowered. (This can be done by turning off switches part way through the exposure of the film or by placing special materials directly over the lamp.) In this image the balance of the three large round fixtures was arrived at by placing fine wire mesh materials inside the lamp housings to reduce the output. The wire is fireproof. (Sometimes dimming is not the best photographic option. When a lamp is dimmed, it's color temperature (Kelvin) is changed. This color difference does show up on transparency films. A normal incandescent lamp when dimmed will become much yellower on film. If color is critical, then these shifts need to be calculated and adjustments made. These effects are much less noticeable on negative films. I recommend shooting negative films because of this effect.)

The food and floral stylist Michael Rayner arrived. He arrived in a whirlwind of activity. Barbara had arranged to have the kitchen and dining areas styled. Photographic styling (a form of staging) is one of the most important aspects to the success of an image. Finding just the right fruits and veggies is an art form in itself. Floral arrangements work when they do not overpower the room.

Color of styling items is also important. Styling objects are successful when they blend with the theme of the space. Avoid white whenever possible. Items that are white or lighter in value will become highlights in the final image and will draw the viewer's eye to them. The viewer should be drawn to the space and not the white petals of a flower.

While I regularly do very minor styling for my images, a professional stylist can transform an ordinary scene into a masterpiece. Most clients handle the general styling of an image. Barbara's home was excellent, but strong food and floral styling would put it over the top. Within what seemed a few short minutes most of the accessories and food were in place and looking beautiful. Michael had managed to assemble and arrange all of the food and flowers into perfect harmony in what was a frenzy of activity. As soon as he was finished he was on his way and left. By my recollection he arrived and styled the shot in under 1 hour. I have never witnessed a faster styling job, while maintaining such a high degree of quality. Bravo Michael for the excellent job!

When a shot is composed, many small details are considered and adjusted. Just about every object and item is turned and positioned for the best it can look. Plants are turned, shades and louvers adjusted. Cords hidden, windows cleaned, drawers closed, etc... As the shot takes form, the little things that stick out begin to haunt the shot and are noticed. As everything becomes harmonious, only the dissonant notes stand out. My attention turned to a rather noticeable hole in the ceiling of the dining area. Barbara explained that the ceiling fixture in the dining area had been moved a foot, to reflect the balance of the room, and that as a result, a largish hole with a recessed jbox (electrical junction box) remained. The hole would eventually be covered and refinished. That had not happened yet. The ceiling of this rather excellent image had an unsightly hole in it. It would be clearly visible on the film. Most viewers would see the hole. Not a good visual. This would for many pro's end up as an unavoidable and costly retouch situation and costing hundreds of dollars to fix.

The challenge for me was more of a technical hurdle than physical. Back in the dark ages (pre Photoshop), what you saw in a scene was what you got. You shot to make the film as close to perfect as possible. (In this digital era, anything can be retouched, and at a reasonable cost.) Photographic retouching in 1993 was very expensive and out of the price range of most clients. Often the retouching cost would exceed the shooting costs. Retouching was always avoided if possible. As a skilled pro, I had developed and refined some useful techniques, to avoided that money pit for my clients. This image was one such case.

In the prior years, I had learned that on transparency film (positive film like a slide only larger) (slides are small transparencies), a lighter item (boo boo) was easier to retouch out (remove) than a darker item. The retouching would be done with dyes, directly on the film (on the emulsion). Sometimes the image had to be abraded with a knife or chemically reduced. Most of this painstaking work was done with a fine brush and magnifying loupe. The application of dyes would take hours and was a slow and laborious process. For my retouching I frequently used Mr. Aundre Brandon of San Francisco. He is an awesome retoucher. If the retouching involved color casts to correct florescent lights, a wash of complimentary dye over the entire image would balance the offending color. This art form has all but disappeared with the advent of Photoshop. As a master of his craft, Aundre performed miracles on film.

Removing a dark blotch, or object, such as a hole in a ceiling (on a transparency) was always dicey. Definitely not an easy task!



Enter, The Photo Toupee:

Bright white paper tape (2" wide) is applied to the jbox hole to cover the opening. The tape is carefully cut to blend with the surroundings. Once the taped white patch is large enough, its edges are cut wavy to camouflage its overall shape, and reduce noticeable straight edges.

This was normally the best solution to this type of situation. (Provide a white patch of the region for Aundre to add retouching dye, directly on the film.)

In this instance the white patch improved with the addition of several chalk and oil pastels. They were carefully applied to the white patch, as a touch up, to color blend the patch to it's surroundings. In essence, the film barely saw the patch. The area looked as if there was only wood where the jbox was in reality. The spot was covered. Hence the name "Photo Toupee"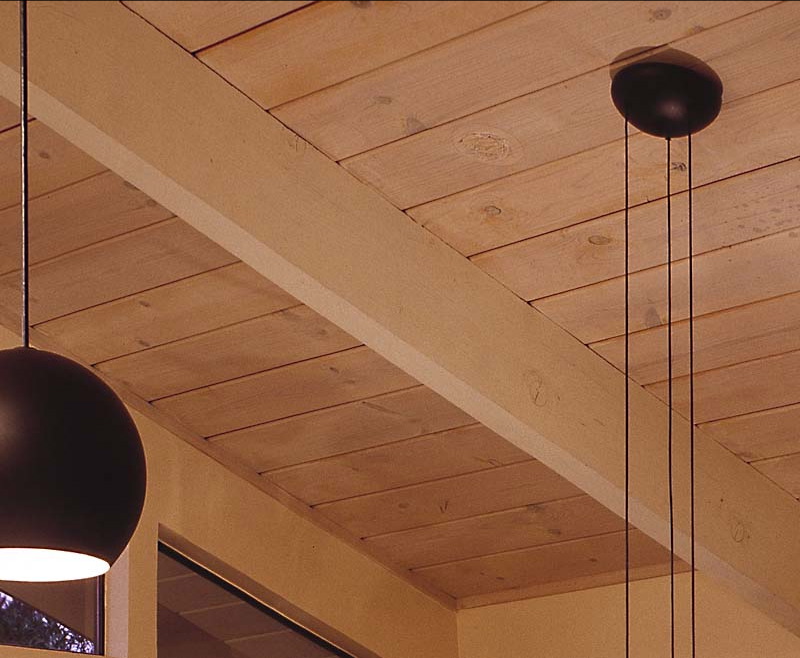 (The "photo toupee" is to the left of the ceiling base of the pendant wires shown above)

Items that were once unavoidable would seem to vanish with this technique. It provided an adequate form of camouflage. Many wall switches, supply vents, exit signs, floor monuments, floor drains, door cracks, window highlights, structural defects, electrical cords, plug outlets, and wall signs were disposed of in this manner. I no longer carry the white tape and pastels as "essential" to any shoot. The advent of "cloning" in Photoshop in the late 90's has made easy work of these once formidable obstacles. Onto other new challenges… Enjoy the shot…


Doug




Douglas A. Salin Photographer
647 Joost Avenue
San Francisco, CA 94127
415-584-3322
415-227-6600 Pager
doug@dougsalin.com
http://www.dougsalin.com



Upcoming Travel Itinerary (Tentative):
(By combining costs with my other travel projects, you/your firm can save on travel costs)



February 2005
Boston

March 2005
Southwest

April 2005
Mid Atlantic / New York
Lightfair, NYC
IES/TLF, Lecture, San Francisco

May 2005
Frankfurt

July 2005
Los Angeles

August 2005
East Coast / New York
Midwest

September 2005
North East
Midwest

October 2005
South
Chicago
Boston


November 2005
Midwest
Texas

December 2005 (IALD submission deadline 12-1-2005)

January 2006
Dubai??






Recent Awards, Events & Future Events:


2004 Gold Nugget Awards Grand Award —Category 39
Best Attached Project - 12 to 18 du/Acre

Ross Woods
Belmont, California
Builder/Developer: Regis Homes of Northern California
Architect: SB Architects

Light Show West 2004 Update:
For the second year, my work (66 plus images) was shown in conjunction with the Light Show West trade show in October at Moscone Center in San Francisco.

Golden Gate Section IES/TLF:
I'll be lecturing at the IES/TLF Golden Gate Section Meeting, April 18th, 2005 at Boyd Lighting in San Francisco.


2004 Travel Destinations:

Las Vegas, NV
San Ysidro, CA
Kansas City, MO
Chicago, IL
Cleveland OH
Boston, MA
Albany, NY
Ft. Drumm, NY
Philadelphia, PA
Boca Raton, FL
Pasadena, CA



2005 Travel Destinations:

North Barrington, IL








Previous "Pic of the Months" may be viewed at:
http://www.dougsalin.com/pom/gallery/pom_gallery.html