The "Pic of the Month" is a fun look back at the behind the scenes stories, antics, and events from some
memorable architectural lighting images. Enjoy.
(If you would prefer to not receive these stories, please email me and I will remove your name from my
list. Please pardon my intrusion.)
The Night Before Christmas...

'Twas the night before Christmas, 2001. It was actually November 6th. Susie Stolberg(my assistant) and I had traveled to Plano, Texas(near Dallas) to shoot a Dillard's department store for Prescolite and Columbia(both now part of the Hubbell family). My client contact, MJ Paul of Prescolite, had arranged all the clearances, permissions, etc..., and had given me all the necessary contact information.

I was to arrive after store closing on a Tuesday evening, set up my camera and shoot a few shots of their product at this beautiful store. I was to meet Eric Manning of Columbia at the store. Eric would be there to evaluate the product application and be an additional assistant. Susie and I had arrived Monday night at the Dallas airport after a lengthy and glamorous day of jet setting from Oakland via Albuquerque. We found a Travelodge motel on the north side of Dallas. It seemed like a good place, somewhere between the airport and our photo site in Plano. We arrived Monday to make sure our bags/equipment would make it. All was going according to plan. Tuesday was an off day. We took in some art shows at the Dallas Museum of Art. It was a nice day.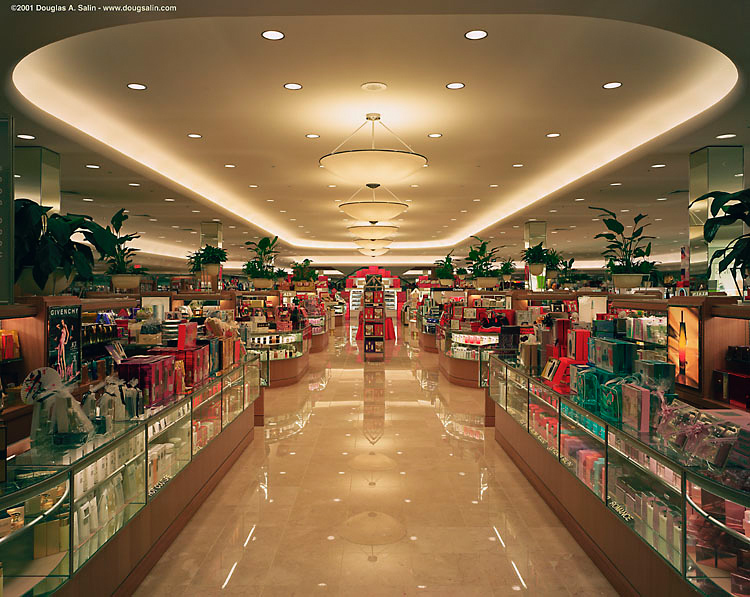 Site: Dillard's Department Store, Plano, Texas
Clients: Prescolite and Columbia
Assistant: Susan "Susie" Stolberg
Client Contact Prescolite: Michael John Paul
Client Contact Columbia: Eric Manning


Rather than eating in Dallas on Tuesday evening, I decided that it would be a good idea to drive to the site in Plano and get a quick look at the store. I'm usually curious to see the site. I look to see how easily my cases of gear will move within the site. I also look at the potential shots and then have a meal. We use this time to plan the evening, etc...
I am always a bit nervous when clients schedule shoots around the holidays.
We finally arrived at the store around 7:00pm. I was somewhat relieved to see that this store looked pretty good. On first look, it did not appear to be over merchandised. Most retail stores are crammed full of merchandise around the holidays. We arrived on the lower floor and made our way to the cosmetics area on the second level. When shooting between mid October and New Year's, it can be helpful to consider that store decorations can get in the way of architectural "beauty" shots. Things like Halloween, Octoberfest, Election Day Sales, Thanksgiving, Christmas, Holiday Sales, After Xmas Sales, and New Year's Sales, you get the picture, somehow creep into the fringes of many a fine photo. The last things you want, or need, are cluttering decorations spoiling that clean looking photo. When we arrived at the cosmetics area I was getting nervous and twitchy. Susie and I were observing a hectic pace of many workers, busily unpacking and prepping holiday decorations by the bushel. I asked one of these helpers what all of the activity was about. She said that, later that night, after store closing, the cosmetics area was
being decorated/transformed for Xmas. Ouch... I'm thinking, how late is late? Susie is beginning to sense some tension in my attitude. I'm a wee bit worried. We had arrived Monday night. Had we only known. I'm playing in my mind calling MJ, to let him know that he just paid to send us to Plano, TX and we scheduled a night too late. Probably my fault. When in doubt, it's my boo boo. How would Prescolite, and Columbia like some wonderful shots of some Xmas decorations? They would be pretty shots. I could just imagine the phone conversation. Dread...
Quickly several phone calls were placed to the in-store visual merchandising coordinator. His name was Gary Miller. He was our savior. He knew we were coming to take pictures that night. However, it did not occur to him or store management that we were not interested in photographing the Xmas decorations. (He would have been gone by 9pm) With my pleading, he was able to understand the problem with the photography. He graciously agreed to wait. He coordinated with the store to postpone the arrival of Xmas, in Plano, by one evening. The removal of the large plants was postponed as well. Whew... (The lesson here: when coordinating a site, if possible, try to arrive during business hours, when the people who make the decisions are still there.)
We had a quick dinner. We met up with Eric around 8.30pm(after the crisis was averted). We all drove to a Super Target store to get some heathy and not so healthy snacks for the evening . We had a security guard assigned to us for the evening. The work went well. Ten or so hours later we were done. We packed our cases and hit the road back to the motel.

What makes particular this image interesting, is the knowledge that all of the isle ways in the image are absolutely crammed with extra boxes of Xmas decorations. Many large display racks were also removed or repositioned. Lots of merchandise is stacked on the ground behind the counters. By thinning the merchandise, the drama of the architecture is enhanced. What appears simple, is not.


Enjoy the image...Peace...
Doug


Douglas A. Salin Photographer
647 Joost Avenue
San Francisco, CA 94127
415-584-3322
415-227-6600 Pager
dspeoe@pacbell.net
http://www.dougsalin.com

(previous "Pics of the Month" may be viewed at my web site)

PS- Well, having worked all night in Plano, I was ready for the short drive to the motel. Unfortunately, it was 8:00 am and we were stuck in the middle of rush hour traffic. What was a short journey in the evening was not so fun with no sleep at 8am with traffic. An hour later we were at our conveniently located motel in northern Dallas. Had we known this would happen we would have gladly checked out and found rooms closer to Plano. On a side note: Check out time at the Travelodge was11:00am). It was 9am. While I was in the lobby trying to arrange a later check out, I was fascinated observing two older men exchange first greetings with each other. They appeared to meet for the first time. They were Gideons, and had met at the motel to upgrade/replace the Bibles in each motel room with a newer edition. I've seen many a Gideon's Bible, but never seen an actual Gideon before that time.
Now, I could download my film and get some sleep. Got to sleep at 9:30am. Well, I overslept my alarm and the wake up call (12:00pm) and was roused by the cleaning people of the hotel. It was well after1pm and they wanted their room back. I roused Susie. We were late. Dazed, we raced to pack and headed to the airport. We barely made the flight home via Las Vegas. My world is full of close calls. Some are closer than others. I like it that way...




Prescolite (uses another fine image from this shoot on the home page of their web site):
http://www.prescolite.com/home.nsf/HomePageFrm?openform


Columbia:
http://www.columbia-ltg.com/welcome.html


Gideons:
http://www.gideons.org/
http://philologos.org/__eb-jki/tape06.htm
http://www.ffrf.org/fttoday/back/gideon.html
[home]
[architectural]
[hospitality]
[interiors]
[lighting]
[product]
[residential]
[tear sheets]
[textiles]
[retail]
[clients]
[bio]